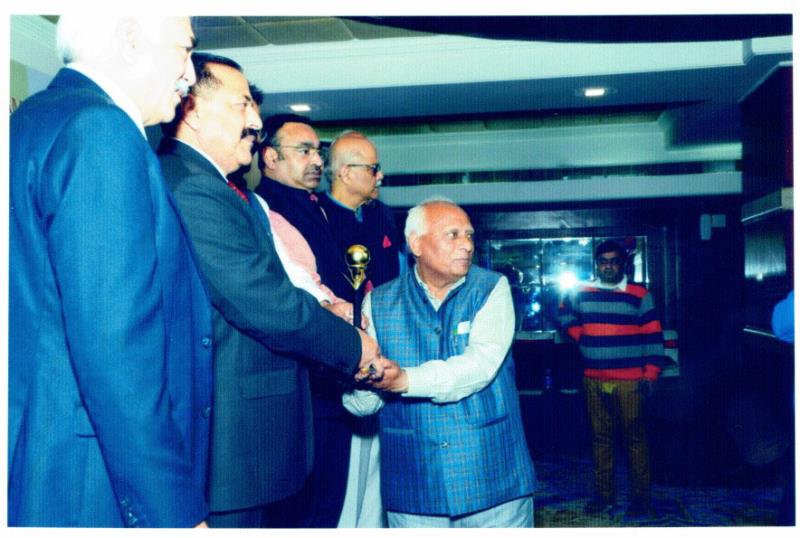 Rahul Pharma honored by ASSOCHAM with award for excellence in Innovation 2018
26 Feb, 2018
Jammu, February 24, 2018: Rahul Pharma National Award Winning & GMP certified Pharmaceutical concern of Jammu has been honored and felicitated by the prestigious industry body ASSOCHAM with the Award for Excellence 2018 in the field of Innovation at a special function held in Jammu.

The award was received by Dr Wender Mahajan, developer of anti-arthritic wonder drug S.Compound and proprietor of Rahul Pharma from Dr. Jitender Singh , Union Minister of State in Minister of State I/C DoNER, MOS PMO, DoPT, Space & Atomic Energy Government of India in the presence of Shri Chander Parkash Ganga, Minister for Industries & Commerce AK state, Sh.D.S. Rawat Secretary General ASSOCHAM, Shri Manguirish Pai Railkar, Chairman ,National Council for Development of MSME, ASSOCHAM, Sh. Rakesh Gupta President Chamber of Commerce & Industry Jammu , Mr. Anil Kishore Chief General Manager SBI . Representatives from J&K Government, Industry and Bank sector were also present at the colorful function organized by ASSOCHAM, The Associated Chambers of Commerce & industry of India, Serving the Nation since 1920.

The award was given to recognize the company's efforts in providing world's most effective evidence based clinically tested safe anti-arthritic herbal Medicine under the brand name of S.Compound based on Boswellia Serrata, grow wild in western part of country. The research work on the herbal drug S.Compound stood published in leading National & International Medical Journals like European Journal of Medical Research, Planta Medica, Indian Practitioner & others. World Health Organization inserted research work on S.Compound under clinical pharmacology in its book titled Monograph on selected Medicinal Plants volume IV while describing Boswellia Serrata. Central Council for Research in Ayurvedic Sciences also inserted research papers on S.Compound while compiling its catalogue under safety and efficacy.

It is to be pointed out here that Arthritis is one of the most painful diseases and in uncontrolled conditions it leads to deformity. Western Doctors failed to develop a specific treatment yet. The Medicines prescribed by the western Doctors are causing great harms to our body system. S.Compound not even treats the disease but also helps in prevention.